It is with great pleasure that Steve Peat and pals are finally able to release the date and details of this year's race. The biggest little race on the calendar returns to Grenoside woods for our 6th instalment this spring. With Steve announcing his retirement from World Cup racing we have even more to celebrate this year, so come join us for last orders!
Last year's race saw thousands of spectators, including a injured Steve, lining the course cheering on over 300 hundred racers, including fastest on the day, Josh 'Ratboy' Bryceland. From 10 to 73 years old and with the biggest lasses field of any downhill race this event continues to grow in enjoyment and success. This is due in large part to the massive team of volunteers who give their time willingly to make it happen but also to all our very generous sponsors who donate prizes for us to give away or auction off.
Thank you to all of you! We couldn't do this without you.
SantaCruz UK gave us a Santa Cruz Tallboy frame with Fox CTD shock to auction off to swell the trail building fund. Last year we had a long list of competitions:
If you finished in the top 3 in the race, you received great prizes from our sponsors.
Every winner also got a unique medal made by Sheffield Legends TADO who also kindly provided the design for our amazing tees and hoodies. This racer's goodie bags were packed like never before.
Hook It Products  kindly donated a custom race mudguard for every racer.
There was a bottle of Beer from Bradfield brewery
Clif Bar gave one of their delicious and nutritious bars to every racer.
And finally there was a custom pint pot to remember the day by.
The Cycle Barn were kind enough to give all our hard working marshals a goodie bag to take home.
Finally we wouldn't have had the wonderful photographic talents of Sam Needham or the videographicmagic of Tom Calwell, without out brilliant media partners PinkBike!
Our podiums were as packed with talent as ever, well done to everyone that raced. A big thank you for Mark Crawshaw for the use of his photos.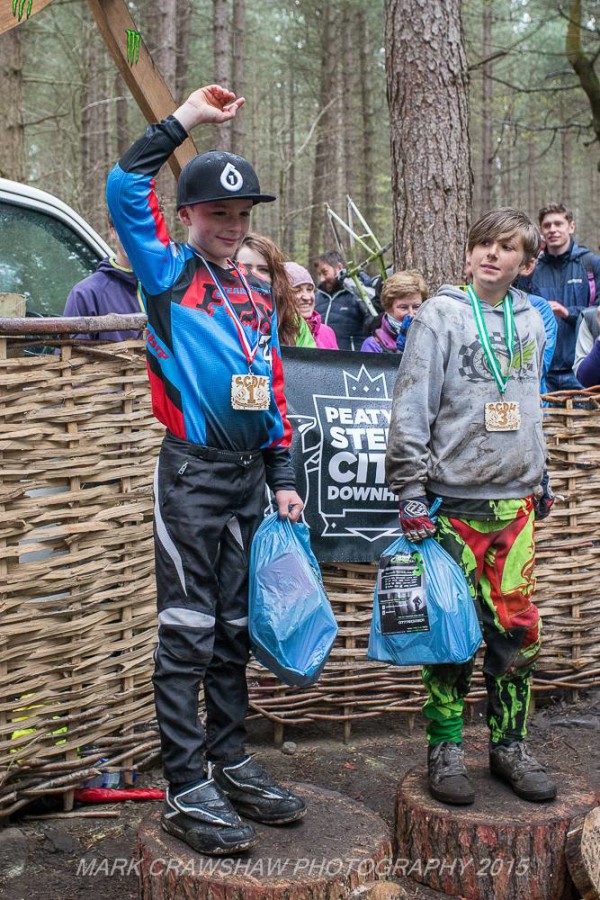 1 – James Wilson. 2 – Lewis Carr. 3 – Jake Peat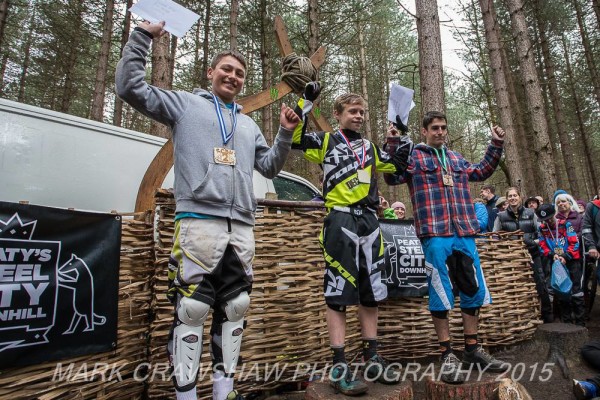 1 – Evan Davies. 2 – Sam Taylor. 3 – Matteo Crompton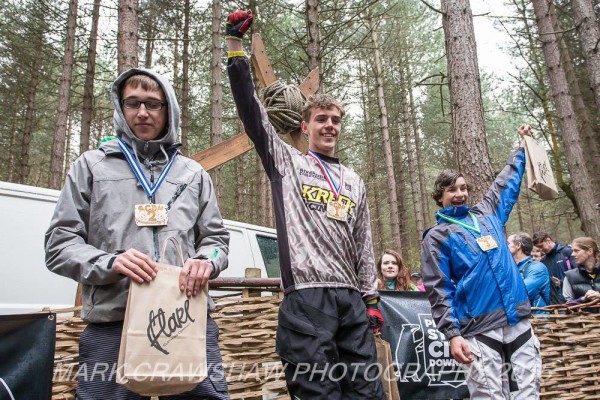 1 – Jordan Beighton. 2 – Richard Brown. 3 – Jake Monk
JUNIOR – Hope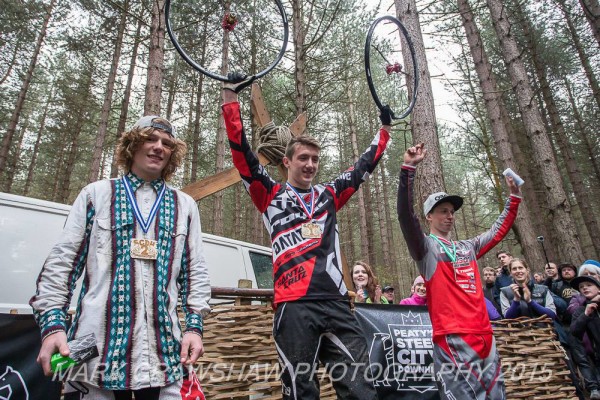 1 – Bradley Swinbank. 2 – Sam Hockenhull. 3 – James Hurst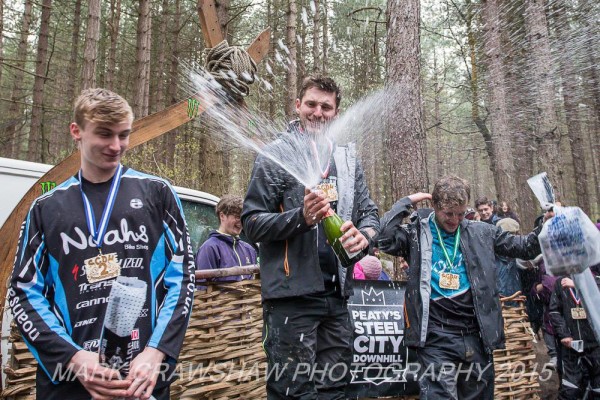 1 – Ben Lord. 2 – Thomas Cooper. 3 – Oliver Watson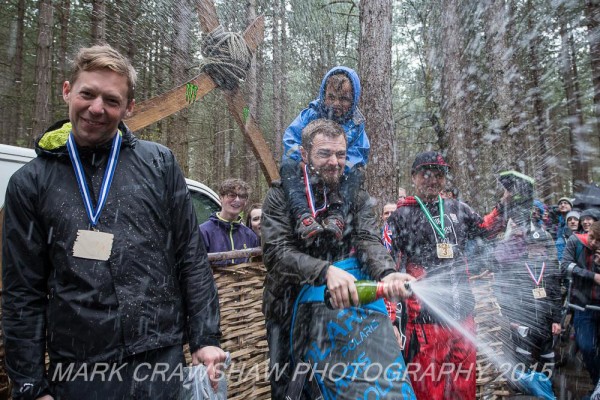 1 – Jonathan Mattews. 2 – James Risker. 3 – Jordan Gould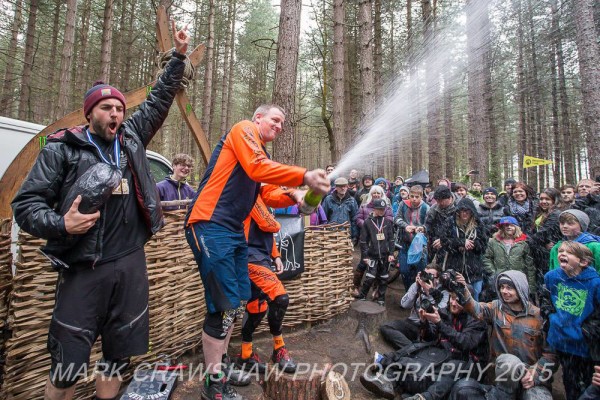 1 – Ben Jaggard-Smith. 2 – Richard Burgoin. 3 – Martin Creaser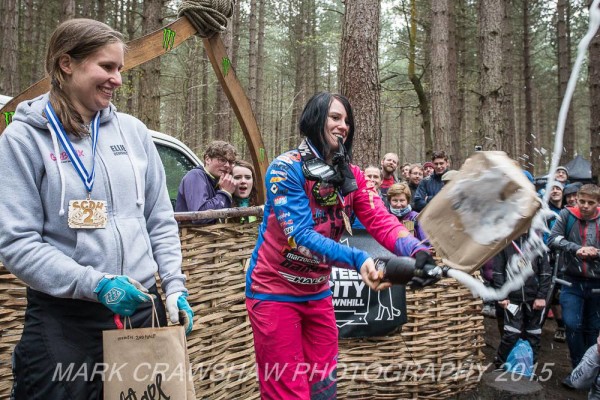 1 – Suzanne Lacey. 2 – Ellie Dewdney. 3 – Martha Gill
MASTER LASSES- Polaris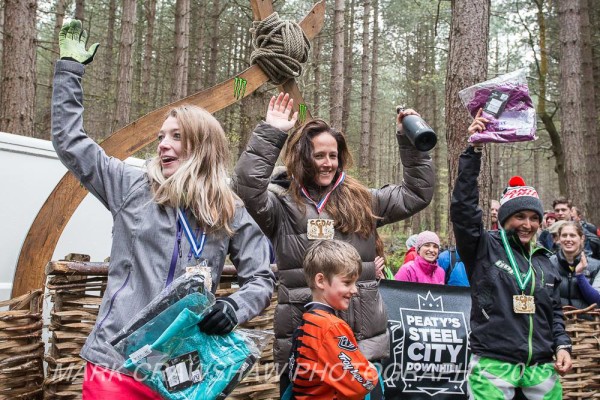 1 – Adele Peat. 2 – Becci Skelton. 3 – Rachael Walker
1 – Linsay Hanley. 2 – Janine Wolstensholme. 3 – Melissa Pearson
FASTEST LASSES – 60Sticks
1 – Rebecca Barona. 2 – Joey Gough. 3 – Carrie Poole.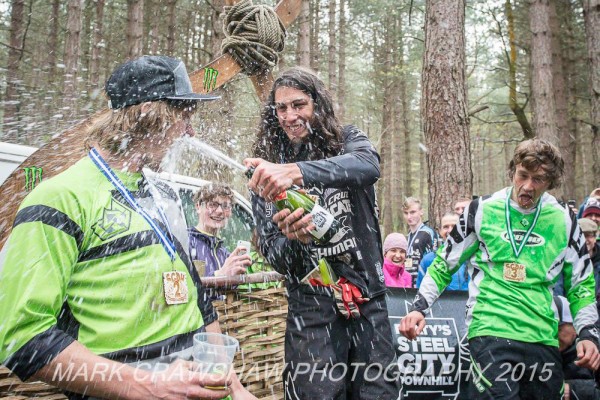 1 – Josh Bryceland. 2 – James Swinden. 3 – Craig Evans
The 2016 race
We're hoping to improve this year's race by learning from last year; the first change will be our entry system. This year we won't have the stress of thousands trying to enter at the same minute and crashing the system. We will instead be using the same lottery system employed by the Enduro World Series, with places allocated completely at random. You will have 48 hours to enter your details, any multiple entries will be disqualified. The lucky racers will then be informed and they will have 48 hours to make payment before their place is given to someone else. Entries will open at during the last week of February, exact details will follow shortly.
Last year's race was marred by hundreds of spectators choosing to park on the sides of the roads rather than in our official car park in Farmer Jacks field. By saving the two quid parking fee you have threated the continuation of this race and are only able to proceed following careful negotiations with the council. Please take note. If you drive to the race, you must Park in our official car park. If you don't, we won't have a race next year. It's that simple. Make sure you tell everyone you know and if you see anyone parking on the day, let them know too. It's our race, we've got to keep it happening.
This years race will take place on Saturday 16th April, keep them peeled for all the details to follow.
We're currently negotiating with our sponsors and exhibitors to get even more out of them this year. If you're keen to get involved, drop us a line at steelcityseries@gmail.com