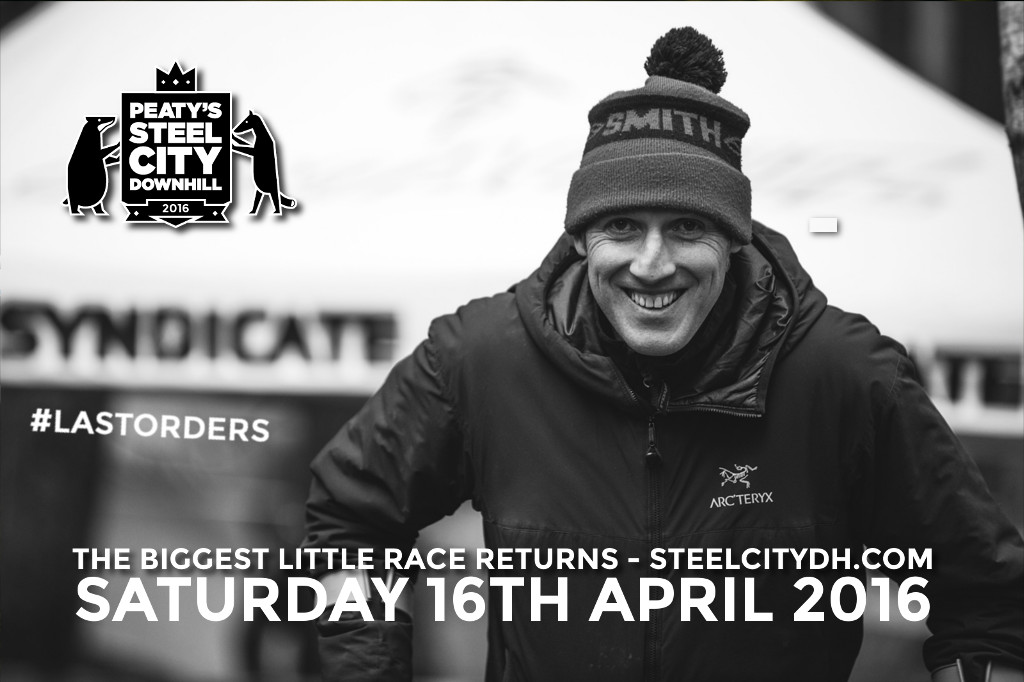 Everything is now set for Peaty's Steel City DH 2016. The racers a psyched and prepped. Remember its free to spectate and makes a great family day out.
Here's what you need to know:
Schedule – Saturday 16th April
7:00 – Official car park Opens
8:00 – Registration opens in event car park
8:00 – Course open for on foot inspection (no riding)
9:00 – Course open for Practice
10:00 – Registration Closes
11:20 – Practice Closes
11:30 – First Race run begins
2:40 – Second race runs begin
3:00 – Car Park Entrance Closes
5:30 – Podiums and Prize Givings
7:00 – New Barrack Tavern for beers and cheers
Map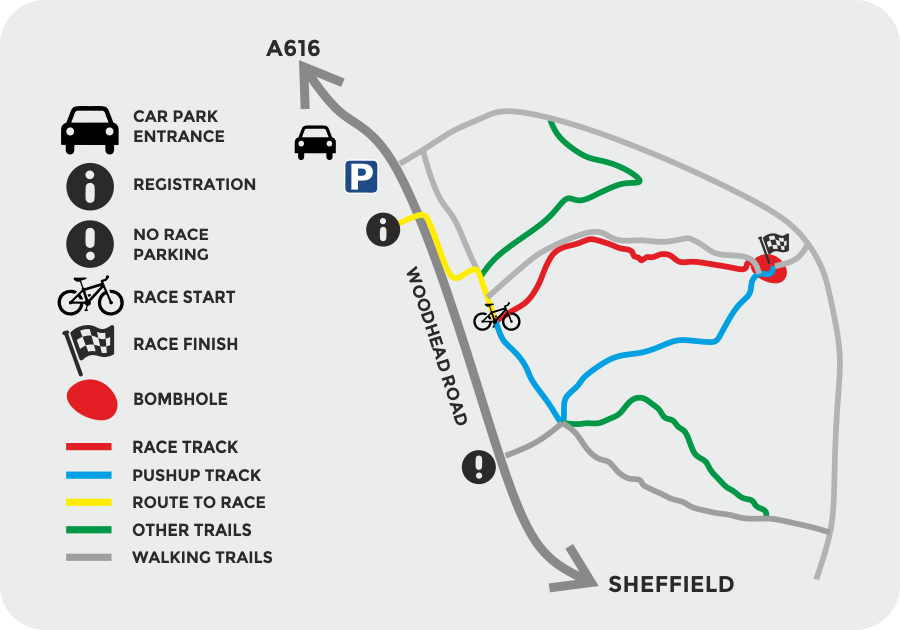 View Peaty's Steel City Downhill in a larger map
Parking
If you are driving to the race you must park in our official car park. Parking anywhere else, in the public greno car park or on the road, jeopardises the running of the race on the day and in future. Please be responsible.
Parking is in Farmer Jack's field, at Hall Head Farm on Woodhead Road, the entrance will be clearly marked. It is marked on the map above by the car the closest postcode is S35 7DS but dont rely on it for a Sat Nav. Do not try to come in to the exit, marked with a man, it is a one way system. Parking is £3 per vehicle and offsets the loss of earnings from hay from damage to the grass in the field.
The car park opens at 7am it will close for entry at 3pm. Please remove your car as soon as possible after the race.
There will be no camping in the field this year.
Exhibitors
On the day the finish line bombhole will be filled with lots of stands selling and promoting their wares; they are all listed here. There will be opportunity to buy Steel City DH, ThisiSheffield, Bolehills and Ride Sheffield merchandise from our stand.
We have several food and drink vendors to keep you fed and refreshed, so please bring some cash. They all donate to the race fund so please support them all as much as you can.
Competitions
This year we have more opportunities to win.
Aline Coaching are giving away a days coaching to our most mid-pack racers. One lad and lass will receive expert tuition to improve their race performance to try to get you on the podium next time.
Totally Insured are giving away £200 to the rider with the best crowd pleaser over the 'Jolley Gap Jump' at the top of the track.
JE James cycles have donated £500 worth of vouchers to give away. £250 will be in our tombola and £250 will go to our 200th overall placed rider. Everyone gets a chance to win!
Prizes
If you're racing and you finish in the top 3, you will receive a great prize from one of our sponsors.
Lads
Lasses
Pro-Elite
Every winner will get a medal made by Sheffield Legends TADO.
This years racer good bags will be packed like never before.
Hook It Products have kindly donated a custom race mudguard for every racer. Lets hope we don't need them on the day.
There will be a bottle of Beer from Bradfield brewery
Clif Bar are also giving one of their delicious and nutritious out to every racer.
Biketrack.org , who built the track in the first place, are giving away a custom water bottle to every racer
Eighteen Bikes are kindly giving all our hard working marshalls a goodie bag to take home.
Tombola
This year we will be running a tombola for a large selection of prizes. Tickets will be only £1 with a star prize of £250 of JE James vouchers. Every race sponsor will also be providing a prize for the prize pot, so there will be lots to choose from.
Auctions
This year we have a great frame donated by SantaCruz UK to auction off to swell the trail building fund. We just need you to buy it! They have given us a Santa Cruz Tallboy frame with Fox CTD shock. This is currently for sale over on Ebay. Please bid generously, this is a very good cause.
ALSO!
Sixth Element have donated a Carbon Wheel Set for us to auction off. They will build a brand new carbon wheel set to your specification in any wheel size and width. This is an amazing offer as they retail for £900 with Hope hubs and Unidirectional weave Toray T700 Carbon Rims, enhanced with 3K weave around the internal spoke bead.
These are also on sale over on Ebay… get bidding!
Racers
Here's what you need to know.
Registration
Race registration takes place at Peatys Van in the car park. If you are under 18 you will need to bring a parent or guardian to sign you in and take responsibility for you. You will need Photo ID to sign on. No ID no ride. This is to ensure you are who you say you are, if you're not, you will invalidate our insurance and we may not have a race in the future.
You need a full face helmet and gloves to race in. You will not be allowed on track without both. We would strongly recommend gloves, knee pads and other body armour if you have it. All other protective equipment, including but not limited to elbow pads, spine guards, neck braces etc are strongly recommended but are not a requirement. You will also need bar end plugs.
It is about a 5 minute ride from registration to the top of the track, this will be marked with signs. It takes about 20 minutes to walk all they way down to the finish. Check out the course on the way.
What you will need to race
Photo ID to Register. No ID no race. .
If you are under 18 a parent or guardian to sign you in. You can not ask a friend to sign you in.
A Full face Helmet to race in.
During the practice time you must complete at least 2 full runs of the race track. Your number board will be marked to confirm you have done this.
£3 for parking in the official car park
£10 for RAD SCS T Shirt (if you want one)
Your bike must:
have 2 working brakes.
have bar end plugs in both sides at all times.
display the race number board at all times when on course. Modifying the board, by cutting or other methods, is not permitted.
be in good working order.
The Track
The track is fun but challenging and is suitable for all levels of riders which will keep you on your toes and grinning from ear to ear. Spectators will be able to see large stretches of the track, so make sure you bring your friends and family along. Also, make sure they bring some noise makers and cheer on all riders, there's nothing worse than quiet crowds
There are significant features on track which you must be mindful of, a gap jump in the top section before the heath and the same large drop in to the bomb hole that was the finish to last year's race. We recommend walking the track before you ride it, especially if you haven't ridden it before.
Please take care on your first run down and all significant features will have a B-Line option around them for the race. You will need to complete two full practice runs before you can race. The track length is around 1:30-2:30, with a dedicated and easy Fire-Road push up back to the start. We have been asked not to ride up the push up track as it is part of the Sheffield Round Walk.
Practice runs from 9:00 until 11:40. There will be nearly 300 riders trying to practice at the same time so please, be considerate and DONT BE A DICK. Leave plenty of room and if you catch someone up, don't start yelling, 'get out of the way'. Anyone caught doing so will get slapped with 'knobhead' sticker. Be warned and be nice. Its riding bikes, its fun.
During the practice time you must complete at least 2 full runs of the race track. Your number board will be marked to confirm you have done this.
You will get 2 race runs and your best time from the 2 counts as your result.
It suits mid travel trail bikes rather than full on DH rigs. Peaty has won the race on all wheel sizes bar a fat bike.
See you in the woods
Thats the lot. If we've missed anything or you'd like to know more, please hit us up on email steelcityseries@gmail.com