Entries are now open for the biggest little race on the 20th May, Peaty's Steel City Downhill.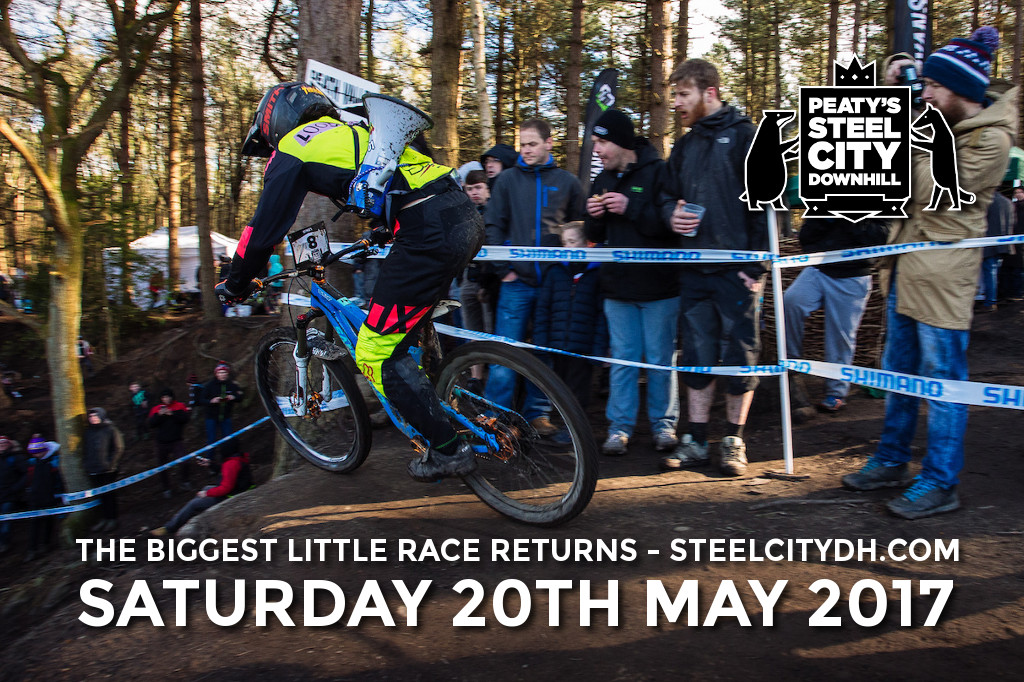 We are using a lottery based entry through eventbrite. Entries are now open and will close at 23:30 on Wednesday 19th April. This should give you plenty of time to get your entry in for the draw.
Those lucky enough to get a randomly assigned place will receive an email with a link to payment and will have 48 hours to pay before their place is passed on to the next person on the list. Entry prices this year are £40 for adults and £35 for kids. This is a not for profit event and all proceeds go back in to improve the woods for us mountain bikers.
A full face helmet is required to race. You will have to show Photo ID on the day to register and under 18s must be signed in by a parent or guardian.
You must enter the relevant category as detailed below through the Eventbrite page
Categories
Your category is determined by your age on the last day of 20167not your age on the day of the race.  For example, if you will be 29 on race day but your 30th birthday is in November then you will be a Master not a Senior.
Lad's
Ripper – 10 to 12
Juvenile – 13-14
Youth – 15-16
Junior – 17-18
Senior – 19-29
Master – 30-39
Veteran – 40 Plus
We also have the Pro-Am catagory  – This is For expert or elite category mtb racers in any discipline only. Podium finishers based on previous results at the Steel City DH will also be promoted.
Lasses
With so many lasses entering the race, this year your categories will also be based on age.
Senior Ladies – 18-29
Master Ladies – 30-39
Veteran Ladies – 40 plus
We will also have a Pro-Am category for the lasses if we get enough entrants. You will be informed of your promotion.
If you are under 18, you can choose to enter the relevant lad's category or enter with the senior ladies.
Details
This is not a full on DH race, it is a Mini DH with a push up back to the top. The track has some significant features in it but all have a B-Line option around them should you not want to ride them. You do not need a full on DH rig to race, it would suit a mid-travel full sus machine but people have raced on all sorts. Peaty has won on his 29er, 650B and even 26″.
Whatever your reason is for attending the race, be it for the serious competition or just to have the experience of racing a mini Downhill, we'll make it fun for all. Riders will get two timed runs with the fastest 3 riders in each category receiving a prize. Just get entered!